Happy Thursday, friends!  Thank you to everyone that texted or emailed me a word of encouragement yesterday.  It really brightened my day knowing so many of you were praying for us and thinking of us.
Valentine's Day is just around the corner, so today I am talking all things red and pink!  I don't know why, but I LOVE Valentine's Day!  I love that it seems everyone is nicer to each other,the Valentine's Day boxes, the candy, the chocolate, the cards, etc.. I also love that it really makes me stop and think about the people I love in my life and how grateful I am for them.
Today I'm going to share with you some of our favorite Valentine's Day traditions in the Bolin household.  Some are old that we have done for years, some are new that we are trying out this year.  I always like to get the girls involved in holidays and making them feel special.  I remember my mom and dad would always have a balloon with candies delivered to school for me and my sister on Valentine's Day.  I love sweet memories like that and want my girls to have those memories with each holiday as well.
ONE
The first tradition I always do is make heart shaped pancakes for the girls on Valentine's Day.  No matter if Valentine's Day is during the week or on a weekend, I always find the time to make my girls heart shaped pancakes.  Lately I have even been adventurous by using red food coloring to make red or pink pancakes.  The girls love them and look forward to them every year!  I use just a simple heart shaped cookie cutter to make my heart shape.  You can't put too much batter in the cookie cutter or it will run everywhere when you lift the cookie cutter off the griddle.  Believe me, I learned the hard way!
TWO
The second thing I always do for Valentine's Day is buy my girls matching dresses for church.  Depending on when Valentine's Day falls, I have the girls wear the dresses the Sunday before or the Sunday after.  I love dressing my girls alike and they are still good sports about it and let me dress them alike on certain occasions.  This year I found these dresses for them at Target.  I can't wait to see them wear them this Sunday!  They have cheetah print wedges they are going to wear with them and I think they will be so cute!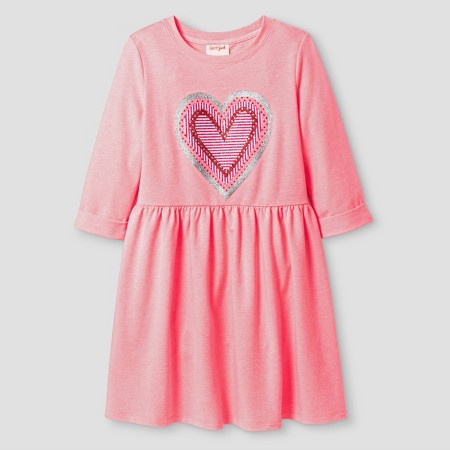 THREE
The third thing we try to do as a family is make a snack together related to Valentine's Day.  In the past we have made cupcakes, cookies, cake pops, etc.  We haven't ever made this snack yet, but this year we are trying Valentine's Day Popcorn.  It is from Mix and Match Mama, so it has to be good!
FOUR
Next, is that we always watch a "love" movie on Valentine's Day night if time allows.  If we can't do it on the actual holiday, we will make time on the weekend or another evening when it works out.  We usually eat our snack we made together and watch the movie in a pallet on the floor.  This year the girls have requested to watch the original Beauty and the Beast movie since the new movie comes out in March.
FIVE
This year we are trying something new and participating in the Cards For Hospitalized Kids project.  I got the idea from Andrea at Momfessionals and you can read about it here.  I am excited for the girls to use their love of crafts and painting and help put a smile on kids' faces that are in the hospital.  It is such a wonderful project to get involved in!  I plan to just print off some free printable Valentine's Day cards found here and then let the girls color, paint, and decorate them.  After you make the cards you put them in an envelope labeled with the address below and send them in the mail!
SIX
Another new tradition I am starting this year is one I saw on Facebook, called Heart Attacks.    It is simply where I cut out some paper hearts, write on each heart something I love about each girl and Chris, and then stick them all over his/her bedroom door!  The girls have loved this and it's fun to watch them wake up every morning and read their new heart for the day.
I hope you have enjoyed today's post~ I had a lot of fun writing it!  I am going to reminisce a little and show you a few old pictures from previous Valentine's Days.  I challenge you to make an effort to tell the people that you love how much they mean to you today!